It's looking like a white Christmas for golfers stuck in Northern climates.
Already dreaming of an escape from winter to find the sun?
It will cost you. Not everybody has the means to tee it up on an island in the Caribbean. Most Americans don't even own a passport. That's not a problem in Hawaii or Puerto Rico (although cost certainly is).
If you can't afford the airfare to some dreamy tropical paradise, all is not lost. You can find plenty of golf courses open south of the Mason-Dixon Line and on the west coast. Picking among the 10 best winter golf destinations — each of which have golf courses for any budget — in the continental United States won't be easy:
1. Scottsdale, Arizona
Pinnacle course at Troon North
---
Premier courses: Cholla Course and Saguaro Course at We-Ko-Pa Golf Club; Monument Course and Pinnacle Course at Troon North Golf Club; Stadium Course at TPC Scottsdale; Raptor Course and Talon Course at Grayhawk Golf Club; North Course and South Course at Boulders Resort & Spa.
Average daily temperature: Dec.: 65 degrees. Jan.: 66. Feb.: 69.
What to expect: Scottsdale edges out California's best. Most of its desert designs are resort friendly with wide fairways, although you'll still lose balls to the cacti in the arroyos. Scottsdale's modern restaurant and shopping districts, packed with bars, attract a younger crowd than SoCal's Coachella Valley, fostering a more energetic vibe. There's a much better sports scene nearby, too, with the Phoenix Suns (NBA), the Arizona Coyotes (NHL) and the Fiesta Bowl followed by spring training in the Cactus League. The desert sunsets never get old, either.
2. Coachella Valley, California
Stadium course at PGA West
---
Premier courses: Stadium Course, Greg Norman Course and Jack Nicklaus Tournament Course at PGA West; Dunes Course and Mountain Course at La Quinta Resort & Club; The Classic Club; SilverRock Resort; Players Course and Celebrity Course at Indian Wells Golf Resort.
Average daily temperature: Dec.: 69 degrees. Jan.: 71. Feb.: 74.
What to expect: Palm Springs might be the most famous of the nine cities in the Coachella Valley, but all of them (Indio, La Quinta, Palm Desert, etc.) have restaurants, resorts, festivals, shopping and courses worth exploring. The surrounding desert and mountains provide a beautiful backdrop. The main drawback is most of the courses are surrounded by housing developments. For a change of pace, you can ride the Palm Springs Aerial Tramway to an elevation of 8,500 feet to hike in the snow.
3. Southern California
The Champions Course at La Costa
---
Premier courses: North Course and South Course at Torrey Pines; North and South Course at The Resort at Pelican Hill; Maderas Golf Club; Barona Creek Golf Club; Champions Course and Legends Course at La Costa Resort and Spa, The Grand Golf Club.
Average daily temperature: San Diego: Dec.-Feb.: 65 degrees. Los Angeles: Dec.-Feb.: 67.
What to expect: The worlds of Orange County (south of L.A.) and San Diego feel dramatically different, but both are loaded with bucket-list golf. Orange County reflects the glitz and glamor of Hollywood, while San Diego has the surfer "just chill, dude" mentality. The major downsides are the traffic jams and crushing California sticker shock.
4. Naples, Florida
The Naples Beach Hotel and Golf Club
---
Premier courses: Old Corkscrew Golf Club; Gold Course and Black Course at Tiburon Golf Club; Naples Beach Hotel & Golf Club; Naples Grande Golf Club.
Average daily temperature: Dec.: 78 degrees. Jan.: 76. Feb.: 78.
What to expect: Most of the best clubs are hidden behind the gates of private communities. Other good options, like Naples Grande, require a stay at a resort for access, so don't delay in making plans. Tee times at the best public golf courses in Naples fill up fast when the snowbirds land. It's not always beach weather. Yet you wouldn't know it by all the Michiganders and Ohioans in shorts splashing in the waves off the Gulf of Mexico.
5. Northern California
TPC Harding Park
---
Premier courses: Pebble Beach Golf Links; Spyglass Hill Golf Course; the Old Course and Ocean Course at Half Moon Bay Golf Links; CordeValle; Pasatiempo; TPC Harding Park.
Average daily temperature: San Francisco: Dec.: 57 degrees. Jan.: 57. Feb.: 60. San Jose: Dec.: 61. Jan.: 60. Feb.: 64. Monterey Peninsula: Dec.: 58. Jan.: 58. Feb.: 60.
What to expect: The weather can vary wildly between the chilly microclimate surrounding San Francisco and Half Moon Bay and the milder one on the Monterey Peninsula. The drought has tempered the rainfall in the normally wet winter months. There's so much to do and see that golf could easily take a back seat for a day or more to experience the San Francisco tourist traps (the Golden Gate Bridge, the street cars, Fisherman's Wharf, etc.) or a coastal hike in Monterey. Across the bay, the Oakland Raiders (NFL) and Golden State Warriors (NBA) are hot tickets. The NFL's 49ers in Santa Clara's Levi Stadium? Not so much.
6. Orlando, Florida
Bay Hill Club and Lodge
---
Premier courses: Bay Hill Club & Lodge; El Campeon at Mission Inn Resort & Club; Waldorf Astoria Golf Club; The Ritz-Carlton Golf Club, Grande Lakes; New Course at Grand Cypress Resort; Tranquilo Golf Club at Four Seasons Resort Orlando; the International Course and National Course at ChampionsGate Golf Club.
Average daily temperature: Dec.: 72 degrees. Jan.: 71. Feb.: 73.
What to expect: Yes, the land of Mickey Mouse is overrun every winter by families and tourists. Considering the deep roster of courses, golfers also get a seat at the table. There plenty of resorts we haven't even mentioned yet — the 54-hole Reunion Resort, the 36-hole Orange Lake Resort (plus two executive nine holers), the three (and a half) Disney courses, and the 36-hole Streamsong Resort, which is 90 minutes south in the middle of nowhere. It's as close to Orlando as anywhere else.
7. Mississippi/Florida/Alabama Gulf Coast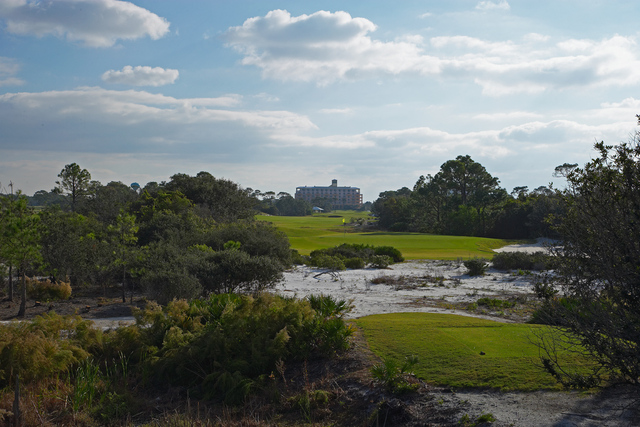 Kiva Dunes
---
Premier courses: Kiva Dunes Golf Course; Fallen Oak Golf Course; Shell Landing Golf Club; Camp Creek Golf Club; Shark's Tooth Golf Club.
Average daily temperature: Biloxi, Mississippi: Dec.: 62 degrees. Jan.: 60. Feb.: 63. Destin, Florida: Dec.: 62. Jan.: 61. Feb.: 63.
What to expect: The sugar-white sandy beaches of the Gulf of Mexico are the attraction. Sections of the Gulf Coast are affectionately called the "Redneck Riviera," a haven of high rises, spring breakers, T-shirt shops, crab shacks and bars. Don't let the nickname scare you off. If you lean toward luxury, there are pockets of it (the WaterColor Inn & Resort for example). Several courses, especially Fallen Oak and Kiva Dunes, rank among the best in the country.
8. Tucson, Arizona
Canyon course at Ventana Canyon
---
Premier courses: Sonoran Course and Catalina Course at the Omni Tucson National Resort; Mountain Course and Canyon Course at Ventana Canyon; Starr Pass Golf Club; and The Golf Club at Dove Mountain.
Average daily temperature: Dec.: 66 degrees. Jan.: 66. Feb.: 70.
What to expect: Tucson doesn't have the sheer volume of courses as Scottsdale, but it's got the quality on top to compete. The Dove Mountain course by Jack Nicklaus used to host the World Golf Championships-World Match Play event. Although the PGA Tour and LPGA Tour events packed up and left, Tucson remains a fun college town, home to the University of Arizona Wildcats. Parks and trails surround the city, winding through the Sonoran Desert and canyons of the Santa Catalinas Mountains.
9. Hilton Head Island, S.C.
Harbour Town Golf Links at Sea Pines Resort
---
Premier courses: Atlantic Dunes and Harbour Town Golf Links at The Sea Pines Resort; Robert Trent Jones Course, George Fazio Course and Arthur Hills Course at Palmetto Dunes Oceanfront Resort, Oyster Reef Golf Club.
Average daily temperature: Dec.: 62 degrees. Jan.: 60. Feb.: 63.
What to expect: Marshes and oaks draped in Spanish moss define the courses of the Lowcountry. Weather-wise and turf-wise, conditions aren't as good as high season in the spring and fall, but the island still delivers arguably the best winter weather of any golf destination in the Carolinas (including Myrtle Beach and Kiawah Island in South Carolina, and Pinehurst in North Carolina). Crossing the bridge back into Bluffton, golfers will find more memorable places to play: Old South Golf Links, Hilton Head National and the celebrated May River Golf Club.
10. Miami, Florida
Blue Monster at Trump National Doral Miami
---
Premier courses: Blue Monster at Trump National Doral Miami, Miller Course and Soffer Course at Turnberry Isle Miami; Crandon Golf at Key Biscayne; Biltmore Golf Course.
Average daily temperature: Dec.: 78 degrees. Jan.: 76. Feb.: 78.
What to expect: Miami edges out Tampa and Myrtle Beach, S.C., simply because of its exquisite winter weather. Everything is hotter in south Florida — the forecast, the night clubs, the wardrobes on South Beach. Its golf scene ranges from a classic Donald Ross at the Biltmore in Coral Gables, to the legendary Blue Monster, which won't host the PGA Tour for the first time since 1962.
Other destinations to consider
Blue Monster at Trump National Doral Miami
---
Jacksonville/Amelia Island, Florida
Charleston/Kiawah Island, South Carolina
Sea Island, Georgia
and Tampa, Florida
Myrtle Beach, South Carolina

* All temperature data from www.usclimatedata.com.